If you need a few things for a dungeon then get ready. From here down I will be adding a few things for that. My first addition will be Wall Bones. A customer in California requested it, and I made it for her.
See what happens when you forget to feed prisoners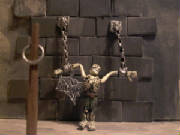 Wall bones is a 15 piece model that can be posed.
I posed him looking up at a window in this one, but you can glue on the skull however you want. You get 1 set of chains, 1 skull, 1 ribcage, 1 set of arms( hands are different ), 1 set of legs, 1 set of shin bones,1 set of feet, and 3 spider webs.