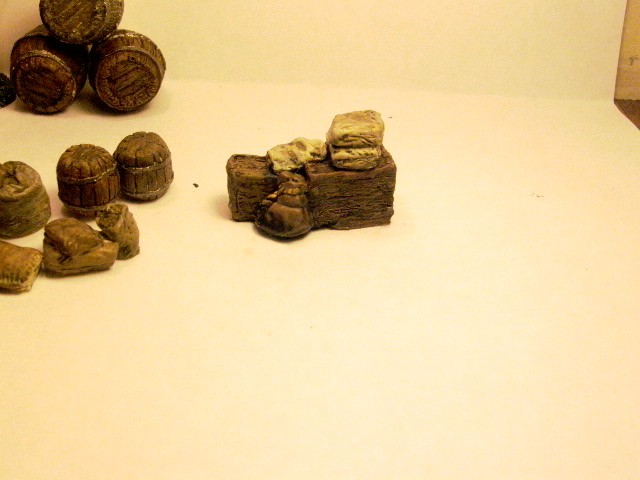 Well a friend needed some supply stuff for a game he was playing. I needed a new cover kit, so here it is... Supply Stash. This kit is stackable and works well as filler for a scene or skirmish battle. It can be searched in RPG or be an objective in a game. It has lots of detail in all the pieces. 3 large barrels, 2 small barrels, stack of sacks and crates, plus small stacks, and single bits. For a total of 14 pieces
You can build whatever you want with these pieces. The wall sections, corner pillars, and wall braces are all seperate. Also the doorway and door are seperate, so it can be drilled and pinned to open and close. Some supports are provided for the addition of balsa wood. ( not included ) It gives you the freedom to build what you want. The stairway is designed to be two levels of stairs to the second floor. All is in ruin to match a warzone in your game. Note: all pebbles, sand, and balsa wood rafters not included.
2 Wall sections 2" tall x 2 5/8" long x 5/16" thick, 2 columns 2 1/4" tall x 1" hexagon, 1 short column 1 1/8" tall x 1"hexagon,1 short column 1/2" tall x 1" hexagon, 2 broken wall sections 7/8" tall x 1 1/2" long x 5/16" thick, 1 stairs set 11 pieces, 3 wall braces 2" tall x 1/2" wide x 5/16" thick, 1 door frame 1 1/2" wide x 1 7/8" tall x 5/16" thick, 1 door 1 1/8" wide x 1 3/8" tall x 1/8" thick, and 6 supports for second floor.