Gaaard! ..............Visitors!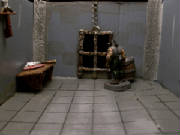 Oh, my axe....hummm!....
The detail in the pictures of Narg can bring any model to life. I have only 4 items in the pictures. 1. The main gate from my steel set. 2. The table from the undead kit. 3. A barrel from the cover kit. 4. The tile floor. The rest of the model was a shoe box till I got my hands on it. . The axe is part mine and part Warhammer pieces. Now on to Nargs playground or click the link below to get Narg.



The kit includes 1 stretch table, 1 rack, 1 whipping post, 1 extra rope, and a whip.